Nepal is a country which is blessed with rich culture and tradition.People of different religion observed different festival.  Janai Purnima is one of them. 
WHAT IS THE JANAI PURNIMA FESTIVAL?
Janai Purnima is one of the important festival of Nepal that is celebrated specialy by Hindu , Buddhist and Jain. The festival falls on full moon day of either Shrawan or Bhadra. 
Different ethnic groups of different region celebrate these festivals in a different way and hold its own significance. Brahmins and Chhettri ethnic group celebrate Janai Purnima. People mainly residing in the Terai region celebrates this festival as Raksha Bandhani or Rakhi. Similarly, Newar Community of Nepal celebrates this day as Kwati Purnima.
HOW IS JANAI PURNIMA CELEBRATED?
The term Janai Purnina means a holy thread in the full moon day.
On this day men of Brahmin and Xettri community change their Janai who had done Bratabanda . Janai is a sacred  thread that is made up of cotton , which is worn across the chest. The Janai is changed by men with the priest either in temples or at home after taking a holy bath. 
The Janai consist of three cords. represtening body, speech and mind. When these three knots have  tied and worn by man, they are supposed to have control over body,  mind and speech. 
On this day people also wears a colorful sacred thread known as Doro around their wrist from priest. Doro is worn for the safety and protection. During the Laxmipuja this thread is tied over the tail of cow with a belief of safe passage to heaven after death. 
Several devotee from Nepal and India visit Gosikunda Lake in this day .  According to Hindu Mythology: Lord Shiva one swallow the poison . So to cool his burning thread he trusts his Trishul into a mountain and extract water ,thus created a lake which is Gosaikunda. That's 'why the water of this lake is considered holy
People also visit the Kumbheswar temple of Patan, Lalitpur in this day .The temple lies in a complex that includes other structures like Bangalamukhi, Ulmanta Bhairava, and two hiti ponds. There is a popular belief that the water spring that fills the ponds comes all the way from the holy lake of Gosainkunda, which is located at the distance of 43 km north of Kathmandu. Taking a dip in that pond during Janai Purnima is equivalent to taking a dip in Gosainkunda itself.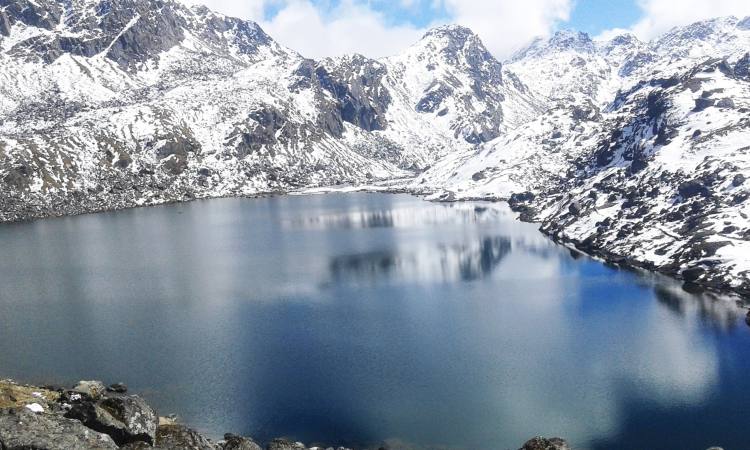 Also, in some part of Nepal, people offer foods like Kwati, rice, and roti (flatbread) in a leaf to the frogs by placing them in fields. This ritual is done as according to the belief that frog brings the rain and ultimate farmers get to plant the fields with crops. Gai Jatra is another festival which is celebrated the very next day of Janai Purnima.
 .